By Rick VanSickle read the original article on winesniagara.com
It wasn't the first name to come to mind when the working partners in the Wending Home Estate Vineyards and Winery settled on what to call their new winery in Niagara. But it was perfect.
Wending means to go in a specified direction, typically slowly, or by an indirect route. Or as partner Ron Giesbrecht says: "A slow circuitous course, not in a hurry, enjoying it." A new home is what partner Huaying Feng, along with her husband Jianneng Li, were searching for when they immigrated to Niagara from Guangzhou, a city in Guangdong province in China. And then there's the added meaning of Wending in Cantonese. Wen 問 ding 鼎 means "to aspire to be the best" and the symbols are part of the label on every bottle made at the winery.
Feng and her husband left China for Canada to realize their dream of being farmers who can own their own land, which is not allowed in China. Li wanted his daughter Amy to have a happy childhood because he believes that children in China are made to study too hard, but that their creativity is limited. They feel that they now have a pleasant life here.
After first landing in B.C. in search of agricultural land in 2005, Feng decided the prices in that province were too steep, so the couple eventually moved east and found the perfect property on 9th Street in St. Catharines (between 13th Street and Creekside wineries) in 2018. The estate's surrounding property was planted with grape vines dating back to the late 1990s by Joseph Zimmerman. Feng has since added to the plantings.
This is where it gets even more interesting.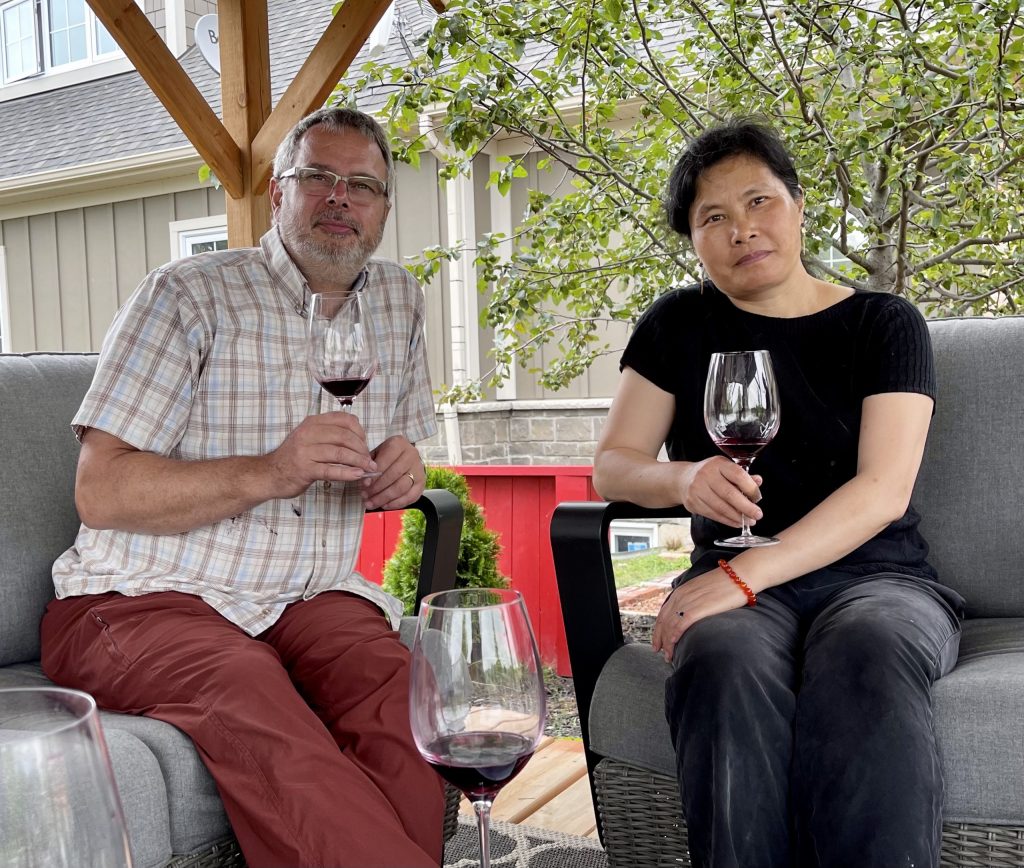 Giesbrecht, who has a degree in Biology from the University of Waterloo and a master's degree in Food Science (specializing in Oenology) from the University of Guelph, was the widely respected winemaker at Henry of Pelham for 23 years before he was hired as the wine and viticulture professor at Niagara Collage. He has been in that job for the past eight years.
Feng was a student of Giesbrecht's studying viticulture to help her better understand science art of growing grapes. Following her studies, Feng decided that she wanted to make wine out of her grapes, not just grow them, and went to the only person she knew who could help her.
When Feng asked Giesbrecht in 2019 if he wanted to become a partner in small boutique winery, Giesbrecht said: "I'm all in!"
The partners have moved quickly as they get set to release their first wine, a rosé, in the next week or so, pending AGCO (Alcohol and Gaming Commission of Ontario) approval.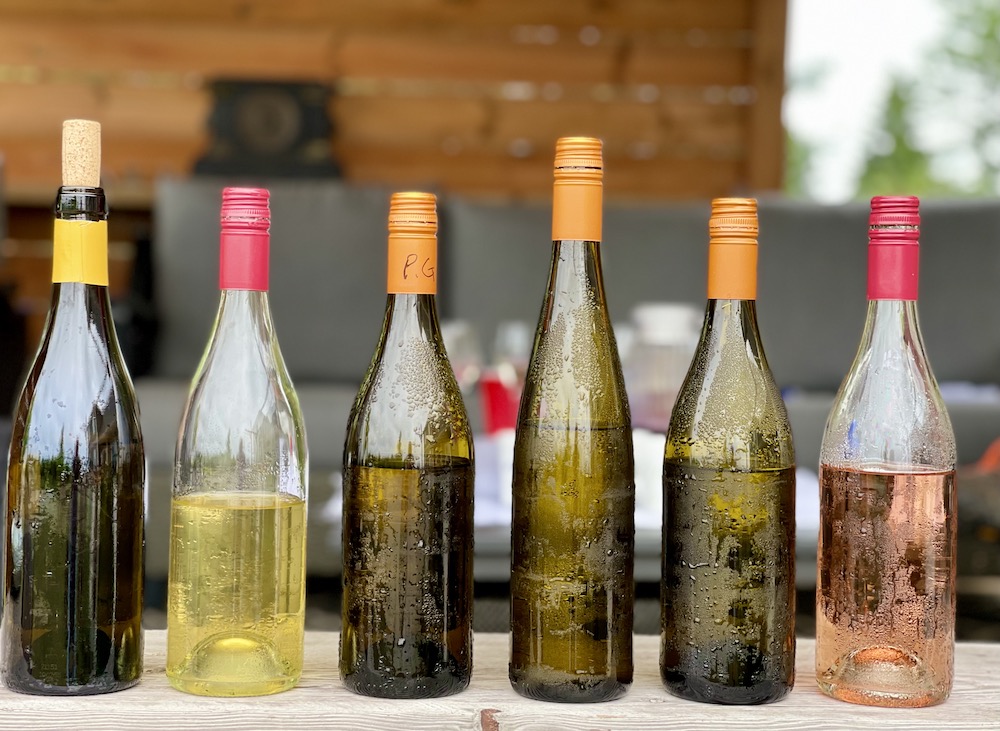 The partners intend to begin work this summer on the retail store, but are at the mercy of the various trades involved. It will likely be pushed into 2022 before there is anything resembling a traditional retail space. Again, all this is pending AGCO approval.
Meanwhile, aside from making a full portfolio of wines over the past two vintages (some ready to go, others still in barrel), a new, functioning winery was built on Feng's property, complete with crush pad, grape press, tanks, oak barrels in various shapes and sizes and everything else needed to make wine.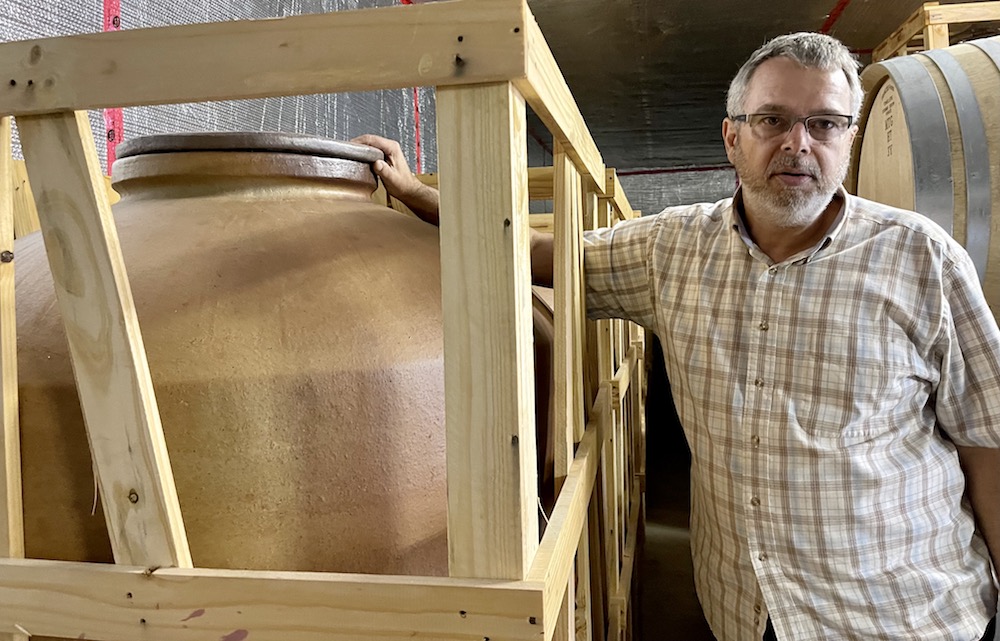 And a crazy array of Chinese made clay tanks, nearly 30 in total, in three different sizes — from 250 litres to 1,000 litres. Giesbrecht is a "big fan of developing interesting texture in wines (along with desired aromatics, flavours, balance, etc.), he says. "These will allow us to make subtle changes to the wine texture in a natural passive way."
Giesbrecht believes oak is great, but not desired in all cases. Clay terra cotta vessels are "cool but very, very breakable, have a higher O2 transmission rate and are therefore limited for use to more robust-tannin rich wines — especially when we want our delicate aromatics to be displayed, too."
He maintains that the Chinese stoneware is somewhat more robust and strong and they are slow O2 reactors thus respecting the natural fruit. They are made in the city of Wuxi in the Jiangsu province, regarded as one of the key cities for traditional clay artisan production, especially the very highly regarded "purple clay." This sandstone clay has high silica content and is fired at very high temperatures and is a preferred source for fine teapots and cups.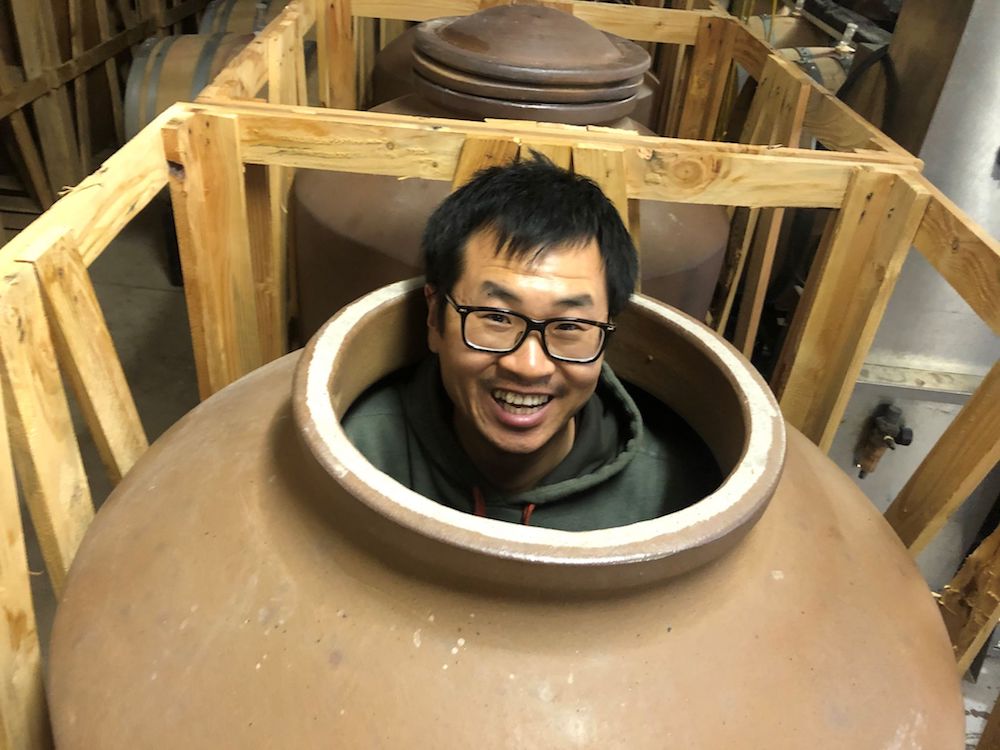 And lastly, there is the "traditional-emotional tie with these vessels that shows our lovely working relationship between a Chinese immigrant family and a Canadian/Niagara winemaker," he says. "Just another arcane element of this relationship that will show up in more distinctive wines."
As for the wines, Giesbrecht says Wending Home is aiming for a production of 2,700 cases to start and a maximum of 5,000 cases at full production. "We want to make it better, not more of it," he says.
And Feng agrees. "We want to make high quality wines and maybe a little bit of money."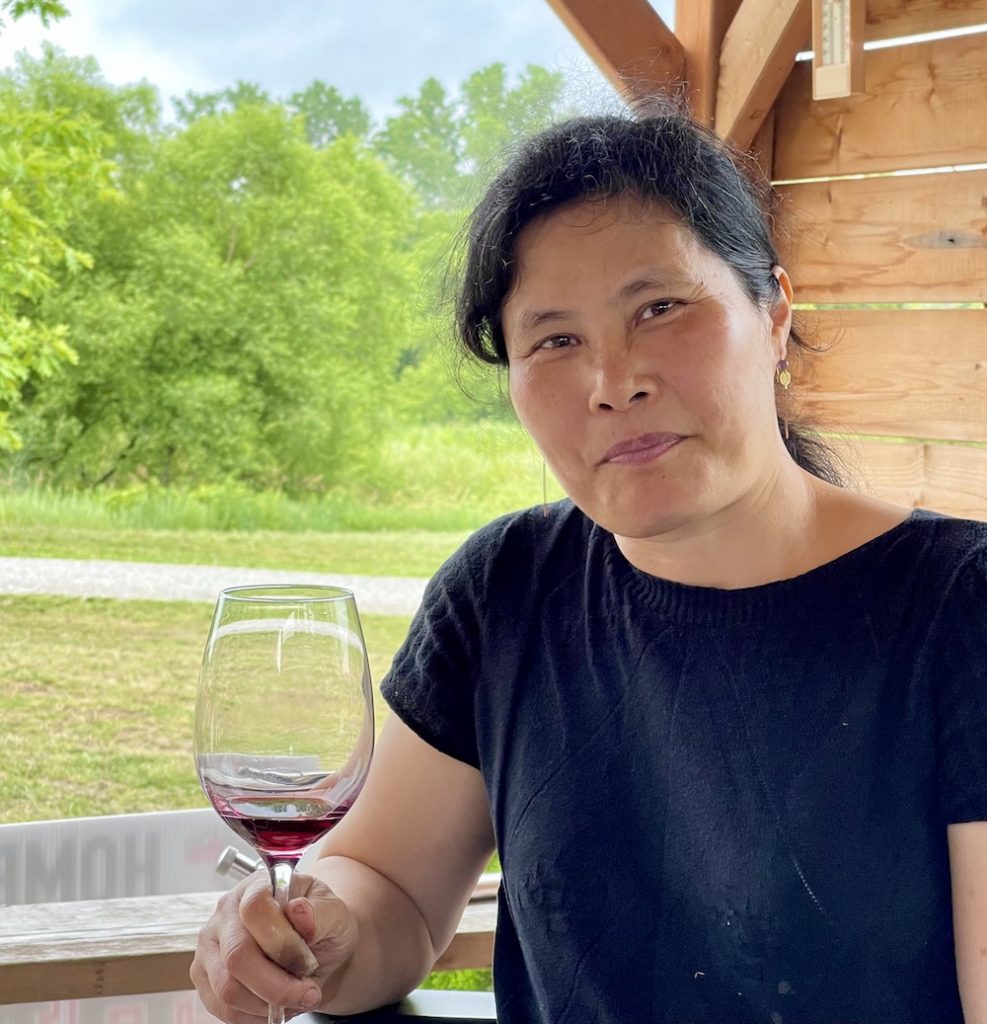 The goal is to make their wines from 75% estate grapes across the nearly 26 acres of older and newer vines. The grapes grown at the Creek Shores sub-appellation estate include, Ehrenfelser, Auxerrois, Sauvignon Blanc, Gewurztraminer, Pinot Gris, Riesling and Chardonnay on the white side, and Cabernet Franc, Dornfelder, Gamay and Lemberger for the reds.
The finished and unfinished wines I tasted with Giesbrecht and Feng, along with marketing ace Meg McGrath, were fascinating. One that really stuck for me was the Wending Home Wending North 2020 proprietary white blend made from grapes grown on the north side of the property. It's so unlike any other white I have tried from Niagara. "It's not a traditional blend," says Giesbrecht. "We wanted something that is a statement, something that people will talk about."
After tasting in the barrel cellar, the red program will also impress wine lovers. The Cabernet Franc from the property is lovely, both the 2019 and 2020 for different reasons. Giesbrecht also has some killer Syrah in barrel and another surprising red blend in store. You will have to wait to find out what that is.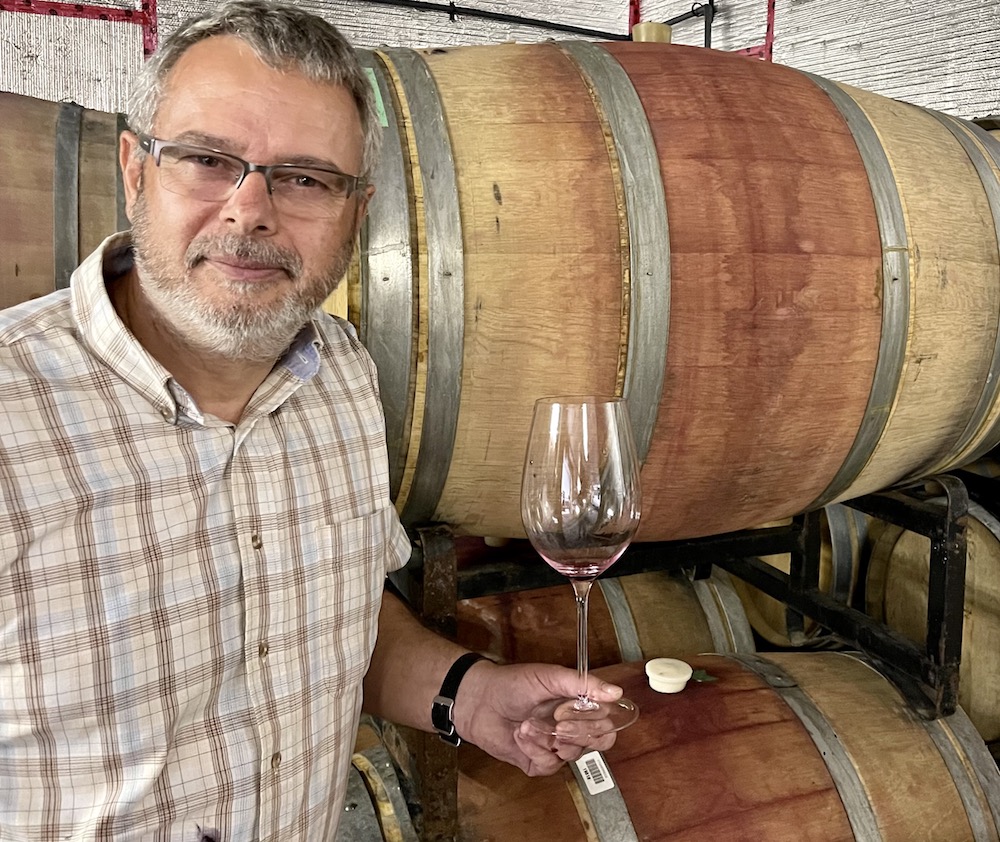 As mentioned earlier, the rosé will be the first wine released, hopefully this week, with the 2020 whites to follow. To get updates on releases and online sales, follow the progress on the Wending Home website here.
Here's what I liked from the first tasting of these wines.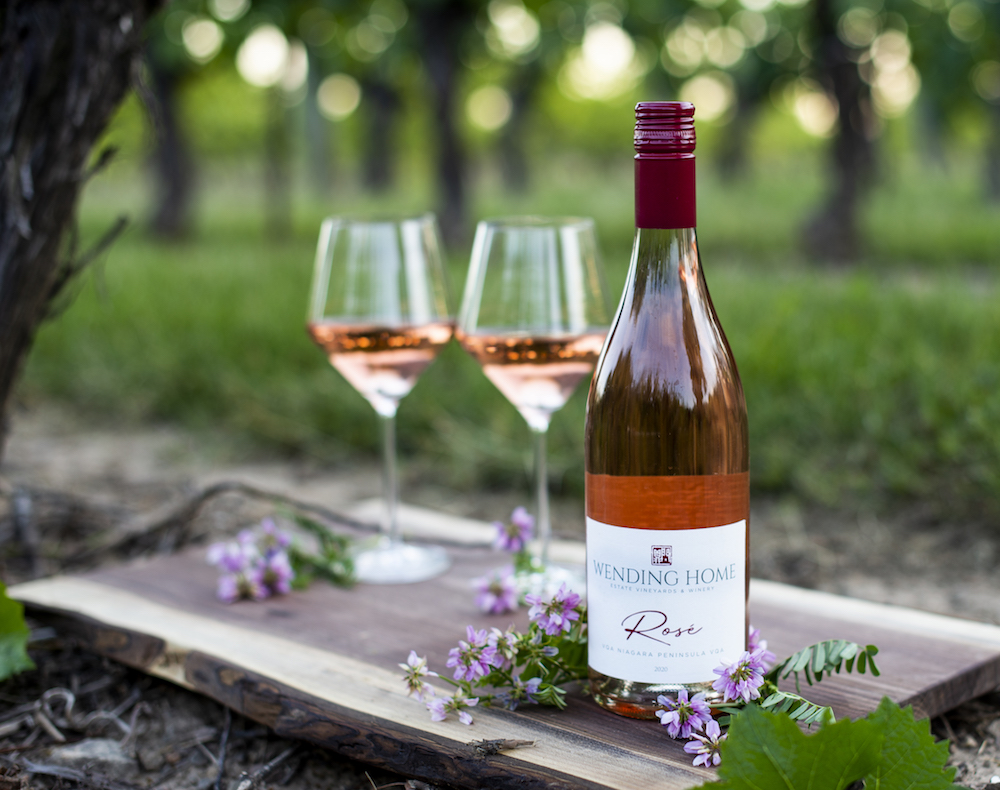 Wending Home Rosé 2020 ($25, 89 points) — The blend of this rosé is 74% Pinot Noir and 26% Chardonnay. It shows a lovely pale salmon colour in the glass with a nose of pretty red berries, watermelon, peach accents and citrus zest. It's fresh and dry on the palate with tart raspberries, cherries, rhubarb, peach and zesty lime on a lifted finish.
Wending Home Pinot Gris 2020 ($28, 90 points) — The Pinot Gris was picked late with about 5-10% of the fruit botrytised. It shows a subtle bronze tinge in the glass with an interesting nose of melon, honeycomb, fuzzy peach, apricot and pear. It has an almost oily texture with some weight on the palate and rich in peach, pear, melon and apricot with a finessed finish.
Wending Home Riesling 2020 ($25, 90 points) — A wow nose of peach, nectarine, lemon blossoms and stony minerality. There's some RS here, but the electric acidity keeps everything in balance. Lots of peachy/nectarine, citrus and wet stone notes on the palate of this racy Riesling. Can age for 5+ years.
Wending Home Sauvignon Blanc 2020 ($28, 91 points) — Another wonderful white from this new winery. The nose shows grapefruit, passion fruit, gooseberries, herbs and pear. It has lovely texture on the palate with grapefruit, gooseberries, citrus, herbaceous notes, subtle spice and a fresh, vibrant and balanced finish.
Wending Home Wending North 2020 ($35, 92 points) — As mentioned earlier, this is a fascinating proprietary blend of 27% Ehrenfelser, 18% Auxerrois , 18% Pinot Gris, 16% Riesling, 16% Gewurztraminer and the rest Chardonnay all sourced from the north side of the estate vineyard. I don't know how Giesbrecht dreamed up this blend, that is a bit reminiscent of the Alsatian Edelzwickers, but he nailed it! Such an attractive and perfumed nose of pear, lychee nut, grapefruit, lemon blossoms with floral notes and minerality. It has a gorgeous, slightly unctuous texture with rich and savoury notes on the palate and then pear, lychee, flinty minerality, wild herbs and citrus with length and freshness through the vibrant finish. A beauty of wine unlike any other you've had from Niagara.
We also tasted the unfinished Chardonnay 2020 and Cabernet Franc 2019. But it's unfair to pass judgment until they are released.